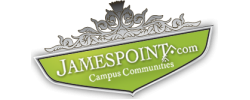 Find Your Perfect Apartment
Browse Jamespoint's network of desirable properties to find a location near you.
Apartments Near Texas A&M College Station
Jamespoint Management is a Texas based property management company that specializes in student housing rentals in College Station and Waco, Texas. We specialize in high-quality student housing supporting the lifestyle of today's college student. We take our student housing to the next level with fantastic amenities to help alleviate the stress that college can bring.

Some of our amenities include, basketball, tennis, and volleyball courts; as well as fitness centers and running trails. We also include cable tv and high speed internet with all of our units. We know that a lot of schooling is done online, so we offer a reliable high speed connection so that our residents can turn their assignments in on time.

All of our communities are beautifully maintained. We spare no expense in making sure that your experience is wonderful. You will enjoy the manicured grounds and our resort style pools. There is plenty of space for you to enjoy the fresh air. If you'd prefer staying in your home, some of our balconies are screened in to allow for fresh air without the bugs.

When you're looking for apartments, the Bryan, College Station and Waco areas are loaded with great options. However, we offer unsurpassed rental options that encompass comfort, luxury and the quality geared towards today's college student. Our College Station TX apartments serve students attending both Texas A&M and Blinn College. Our Waco TX apartments serve students attending Baylor University. Choose from our many properties located in or around Bryan, College Station and Waco and apply today!